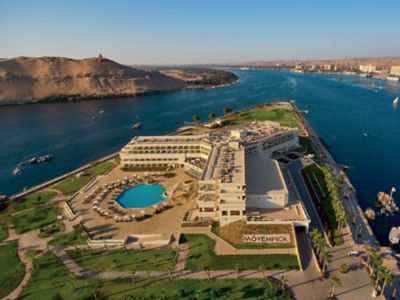 Mövenpick Resort Aswan
Pleasing its guests with a spectacular views over the river Nile from 404 elegant hotel rooms, suites, and villas, Mövenpick Resort Aswan offers guests a unique location on Elephantine Island.
Mövenpick Resort Aswan lies within walking distance from the historical Island, tourist attractions and cultural sites. Our 5 star hotel is only a 20 minutes drive from Aswan Airport and 5 minutes from Aswan railway station.
With its unique view, the Panorama Restaurant & Bar has a 360 degree view overlooking the Nile from the highest point in Aswan. For an Egyptian taste, Mezze restaurant is a great place to enjoy an authentic feast while watching sailing feluccas amid picturesque scenery. Enjoy our 70 years of culinary experience in more than five restaurants and bars strategically located in the resort. For an exceptionally magical experience, ask for our felucca dinner catered to your taste. 
Our hotel boasts luxury facilities, including spacious swimming pools, a health club, meeting rooms with natural daylight and free Wi-Fi internet is available for guests during their stay in Aswan.
Restaurants & Bars
The Place to Savour Life
We believe in indulgence done right. At Mövenpick Resort Aswan we, treat our guests to deliciously fresh cuisine, abundant treats and flavours.  All dishes are served with a generous portion of heartfelt care at our 5 star hotel in Aswan.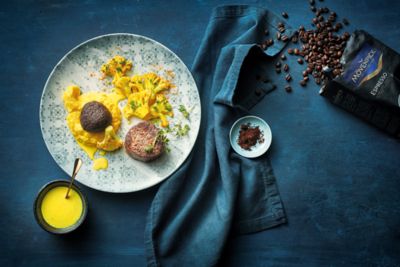 scroll up for previous option
Chocolate Hour
Enjoy mouth-watering minutes of cocoa indulgence every afternoon with the Mövenpick Chocolate Hour, making sure your day's a delicious one at our 5 star hotel.
scroll to show detail options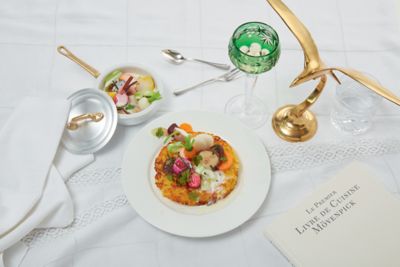 scroll up for previous option
Signature Flavours
Take advantage of a superb range of carefully selected dining options including world-class cuisine offering a variety of international buffets with live cooking at our restaurants in Aswan.
scroll to show detail options
Facilities & Activities
Where Life Tastes Sweeter
Help yourself to the good life at Mövenpick Resort Aswan. From sunny pool days with the family to indulgent spa time, energising workouts to immersive cultural experiences, we invite you to enjoy it during your stay in Aswan.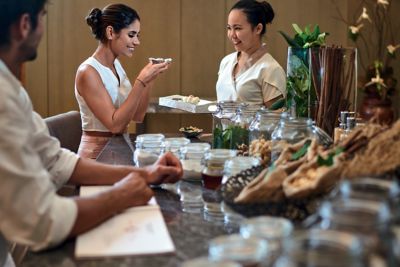 Meetings & Celebrations
Memorable Meetings & Sparkling Celebrations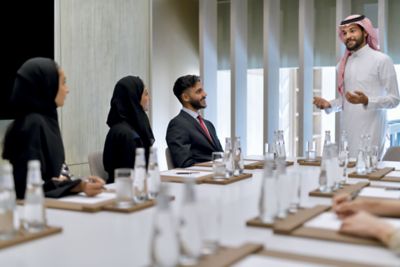 scroll up for previous option
Meetings that satisfy
Spread over more than 800 sqm, our enticing meeting rooms and venues boast flexible meeting spaces, multiple seating styles, unobstructed view, and natural day light offered by floor-to-ceiling windows.
Find out more
scroll to show detail options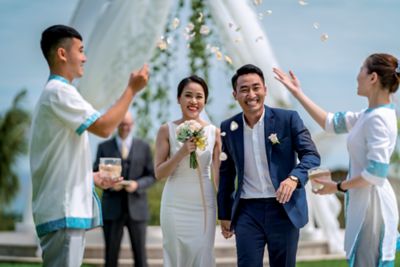 scroll up for previous option
Events bursting with flavour
With a touch of sugar, spice and everything nice, we'll help you celebrate life's rich moments during your stay with us in Aswan.
Find out more
scroll to show detail options
Reviews
jreynolds2014
28/01/2023 From Tripadvisor
A beautiful location in the middle of the Nile River and wonderful hotel
We had 2 nights here, but had a wonderful stay before heading off to Cairo. Great restaurant/bar up in the tower overloooking the hotel, with 360 views all around. The grounds are beautiful as you can see form the accompanying pics. The resort is on Elephantine Island. Wonderful breakfast buffet. We took a small boat across the river to the Botanical Garden. The resort has transport back and forth cross the river with small motored ferries.
470niviner
28/01/2023 From Tripadvisor
Perfect stay
Beautiful location and calm ambience, the staff are very helpful and friendly especially Esraa that is a super host and very informative at customer service, she is a star. Madonna and all the front disk are lovely. Mr Mostafa the manager is also cooperative and professional. The food is also delicious and the rooms are fairly good, with a view from all the sides. Also we are few minutes away from the local market and they provide a small fairy shuttle to take guests to the other side of the bank and back 💫 The island is also big and we walked around and enjoyed beautiful scenic views and bird watching house, deers and nature all around ☀️ the candle light dinner in the Mazza restaurant is very quite and romantic and they make egyptian food.
Hassan M
28/01/2023 From Tripadvisor
Great exclusive experience
Excellent location and service staff are the best ever and most peaceful place sure will come again at the near future and highly recommend to every one assist on making our stay enjoyable stay. Special thanks to Tisir and Chef Ramadan for the well done Cake to my lady
Dramfghc
28/01/2023 From Tripadvisor
Excellent location
Excellent location Excellent service Will comeback again and this place is highly recommended And the food is amazing special thanks to chef Ramadan and Tisir for the warm hospitality and their spical service for our MYF group
marcelaqp
28/01/2023 From Tripadvisor
Best Pool Bar in Egypt - Movenpick Aswan Hotel
We stayed at Movenpick Aswan for 3 nights and the service was very good, specially the pool bar service. Our best compliment to Mahmoud (Pool Bar) that made our stay extra special!!! Thank you Mahmoud, all the best for you and the Movenpick staff.
Frequently asked questions
Mövenpick Resort Aswan is located on Elephantine Island in the middle of the River Nile in Aswan, Egypt.
The address of Mövenpick Resort Aswan is:
Elephantine Island,
P.O. Box 62,
Aswan
81111,
Egypt
There are a variety of popular attractions near Mövenpick Resort Aswan including:
Kitchener's Island
Tombs of the Nobles
Aga Khan Mausoleum
Nubian Museum
Nubian Villages 
Mövenpick Resort Aswan opened its doors towards the end of 1976, was renovated in 2008 and the Elephantine Extension was opened in 2016.
Guests can look forward to a range of amenities at Mövenpick Resort Aswan, including:
2 swimming pools 
Free WiFi
Fitness centre
4 restaurants & bars  
Panorama Restaurant
Accessible facilities
Boutiques / shopping
ATM Machine
Laundry
Organic farm
Tennis court